Stay home, protect our NHS and save lives!
Are you getting bored?
I hear stories of gardens being manicured, garages being cleared out, puzzle skills being re-discovered, and new games for the children. There will be stress, and short tempers, but we need to keep going and keep finding that extra drop of patience.
As expected, the Government instructed us to continue staying at home for a further three weeks. There are encouraging signs that everyone's extraordinary efforts have reduced the spread of the virus, but it is too early to be confident we are over the worst. The decline has happened because of social distancing, and there are also fears over a second wave if we are not careful. We have to keep this up for at least another three weeks.
I know it is difficult for many to cope with this and there is help. We all need to support each other as much as we can.
The NHS has re-launched online resources to help people keep mentally well: have a look at 'Every Mind Matters – Now more than ever" – share with family and friends.
Also, echoing concerns about how families are managing, I am pleased to announce a new Council service that will provide additional support to families, through a new telephone consultation service.
Called the Community Educational Psychology Service, it will offer parents and carers a personal consultation with an educational psychologist. The service runs from Monday to Friday, 8am-6pm: anyone can book a free 30 minute telephone consultation by calling 0121 779 1734.
The psychologists will be able to help with any concerns parents or carers may have: for example, how to manage difficult behaviour, or how to talk to children about Covid-19 and their worries related to it.
There's more about the service here, including some basic information you will be asked prior to a consultation. The team have already been working closely with schools and families since the start of the coronavirus outbreak. This work has proved to be invaluable to many of our families who are finding it harder to cope at the moment.
Also some more informal advice and support for parents staying at home with children can be found here. Parents or carers can also schedule chats with trained professionals for informal support and advice on parenting and behaviour management.
Our secondary school aged young people can also get health and wellbeing advice via Chat Health. This is a text messaging service for young people, to directly contact their school nurse for advice. They simply text 07520 615 730 – they will receive a response in one working day from one of our school nurses.
In a previous message, I mentioned our Love Solihull team's "Tree of Hope" campaign and urged you to encourage children to take part. We have now received nearly 200 fabulous entries. Each of the young artists will receive a young tree sapling to support the Council's #PlantingourFuture campaign.
How wonderful is it that these pictures will now be displayed in our local Nightingale Hospital. I do want these to brighten and bring hope to those staying in the hospital or working there. This has all been made possible by one of our local businesses, ICS Print, based at the NEC. They opened up especially to produce signage for the hospital. Love Solihull approached them to print the entries: in an act of kindness, they offered to print and laminate the entries, at no cost, and pass them on to the hospital. (See image below)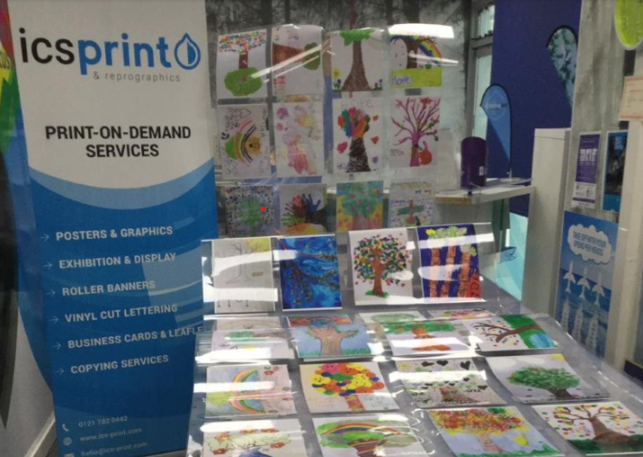 This shows the wonderful community spirit in Solihull. Well done ICS Print and a special thanks to Mark for making it happen.
It's not too late to take part – simply send a 'Tree of Hope' design to Love Solihull by email: [email protected] or via Twitter or Instagram. 
My wish to you all to have good health, happiness and harmony:
Stay home, protect our NHS and save lives .