23 July: Overnight road closure – A452 southbound, Bickenhill
On the night of 23 July, the southbound slip road of the A446, (a.k.a Biddle's Loop) will be closed to install a temporary safety barrier. To minimise disruption to residents and business, the road will be closed from 8pm at night and reopen at 6am in the morning. A fully signed diversion will be in place. Once in place, a short section of lane one will remain closed until 4 August to connect a new electricity cable. This will obstruct access to the southern entrance to Quartz Point Business Park. This will be followed by a further overnight closure on 5 August to move the temporary barrier to extend further south.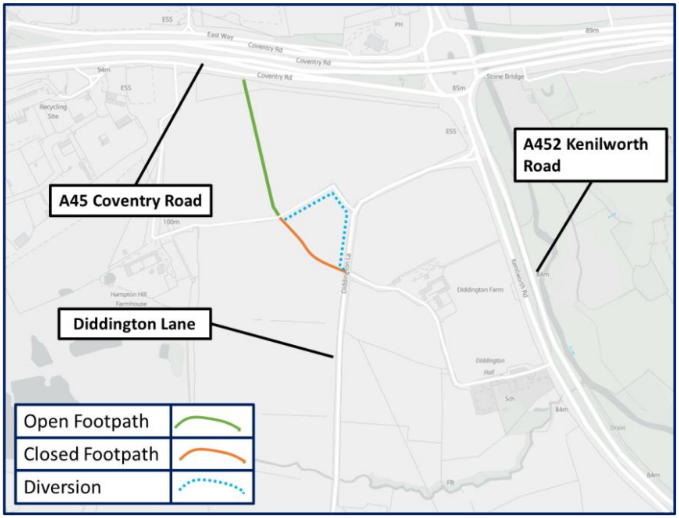 24 July 2023 to 24 July 2024: Footpath Diversion: Hampton-in-Arden
The new HS2 railway will approach the A45 in a cutting. Before earthworks to form the cutting are made, an electricity cable needs to be safely diverted to avoid works interrupting the supply. To do this a footpath leading from the A45 to Diddington Lane will need to be slightly diverted around the worksite for a period of 12 months from 24 July 2023. See the Map below: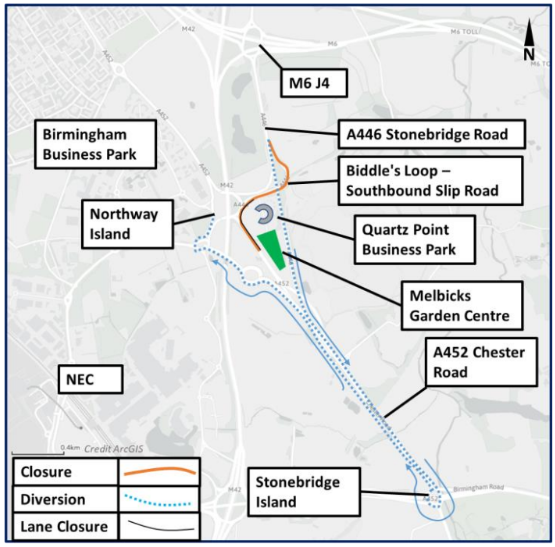 25 July – Overnight closure of M6 southbound slip road at Junction 4
The new railway will pass over the M6 near Junction 4 on a series of bridge and viaduct structures. Before main work on these structures begin an inspection of the existing bridge that carries the Southbound slip road that exits to Junction 4 will need to be carried out. In order to do this safely, contractors will need to close this slip road for one night on 25 July between 9pm and 5am the following morning. Traffic will be directed on to the northbound carriageway via Junction 3.